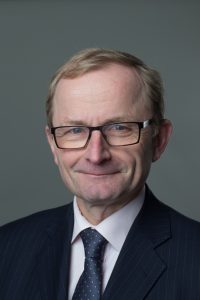 The University of Huddersfield has announced that Colin Dennis will receive an Honorary Doctorate in recognition of his outstanding contribution to railway safety.
Colin is a Fellow of both the Institution of Mechanical Engineers and the Safety and Reliability Society, he has been involved in the development and application of safety and reliability analysis techniques to the nuclear, railway and other industries.  At the Rail Safety and Standards Board (RSSB), he was responsible for producing the rail industry safety performance reports and industry risk assessments including the industry Safety Risk Model.  He currently chairs the Safety and Reliability Society.
Huddersfield University was named the Times Higher Education University of the Year in 2013 and continues to receive international recognition. Recent recipients of this award are HRH The Duke of York KG, Sir John O'Reilly, Sir Peter Knight, Nina Hossain, Baroness Pinnock, Sir Rodney Walker, Sir John Sorrell, Robert Power and The Rt Hon Lord Blunkett. The 2018 awardees include the geneticist and cell biologist and Nobel prize-winner Sir Paul Nurse.
Colin Dennis will receive his award in July 2018.