Affiliate Member Organisation Forum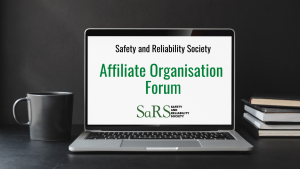 SaRS' recent success in receiving an Engineering Council Licence means that our organisation has more opportunity to engage with and contribute to engineering policy and research. In turn this adds value to membership and Affiliate Organisation Membership. In 2021 SaRS is introducing an Affiliate Organisation Forum.
This will include our current Affiliate Organisations and provide an opportunity to contribute to a 'State of the Safety and Reliability Nation' Report on a series of key, high concept areas that key into National Engineering Policy Unit issues-please see the graphic below.
SaRS Inaugural Affiliate Organisation Forum was held on 24th March 2021. Thank you to all the Affiliate Organisations who joined and contributed. If your organisation did not join this time, we will be holding full forums later in the year.

Representatives of Affiliate Organisations and SaRS Council Members discussed topics that match Royal Academy of Engineering (RAE) projects. Following interesting presentations from CRA, RAS Ltd, AFRY and Sellafield Ltd, attendees moved to breakout rooms and discussed the listed topics and a separate more urgent issue which was sent to SaRS at short notice from RAE. Please see the section below for more details on this – please contribute if possible.

A fuller report of the day will be circulated in due course, but the interim outcomes are as follows:
An appetite for further Affiliate Organisation Forums
Willingness to respond to RAE and Engineering Council Issues
A monthly COVID19 response forum where recovery ideas can be discussed and compared.

We hope you can join us next time.
Affiliate Organisation Drop-ins

Our Affiliate Organisations have pulled together through these difficult times of COVID19 and SaRS would like to provide a drop-in for representatives of Affiliate Organisations to gather to discuss different aspects of technical and organisational recovery.

At the Affiliate Organisation Forum in March the attendees discussed topics including:
Training in the New Normal – online or face-to-face
Working from home – meeting in person?
Document management and the move to digital
Helping each other through with examples of good practice
Advice sessions and comparing notes

We are very pleased to announce that for 2022, we will be holding drop-ins on Zoom quarterly. The format is a general round-the-table introduction and update from each Affiliate Organisation, including proposed topics for discussion. If you have any proposed topic please do send them in an email before the meeting to info@sars.org.uk.

The next meeting, Chaired by Andy Buchan, SaRS Chair, is on 23rd March 2022 at 3pm-4pm on Zoom.
Emma Taylor (Razorsecure Ltd and ex-SaRS Chair) will present:
Cybersecurity in the Safety World

The presentation, will be followed by a Q&A session and a general discussion on technical issues.
Invitations will be sent to Affiliate Organisations in the Affiliate Bulletin before the event.
If your organisation can put forwards a topic for discussion or provide a presenter, we would be very grateful.
We hope to see you there