Affiliate Member Organisation Forum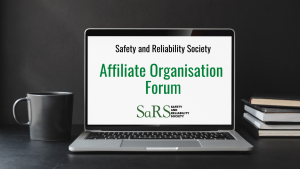 SaRS' recent success in receiving an Engineering Council Licence means that our organisation has more opportunity to engage with and contribute to engineering policy and research. In turn this adds value to membership and Affiliate Organisation Membership. In 2021 SaRS is introducing an Affiliate Organisation Forum.
This will include our current Affiliate Organisations and provide an opportunity to contribute to a 'State of the Safety and Reliability Nation' Report on a series of key, high concept areas that key into National Engineering Policy Unit issues-please see the graphic below.
The inaugural meeting of the Affiliate Organisation Forum will take place on Wednesday 24th March 2021, with a further meeting in the Autumn and the publication of the report in November. The report will be distributed widely and online. This will be an annual activity.
Current Affiliate Organisation representatives will be invited individually to the forum and given an opportunity to provide written response.
If this is of interest to you organisation it is not too late to join in. Please encourage them to join as an Affiliate Organisation of SaRS – this is one of several benefits which can be found, along with an enquiry form, on this webpage www.sars.org.uk/section-membership/joinaffiliate/
SaRS Members will also have an opportunity to contribute to the report.