Upcoming Webinars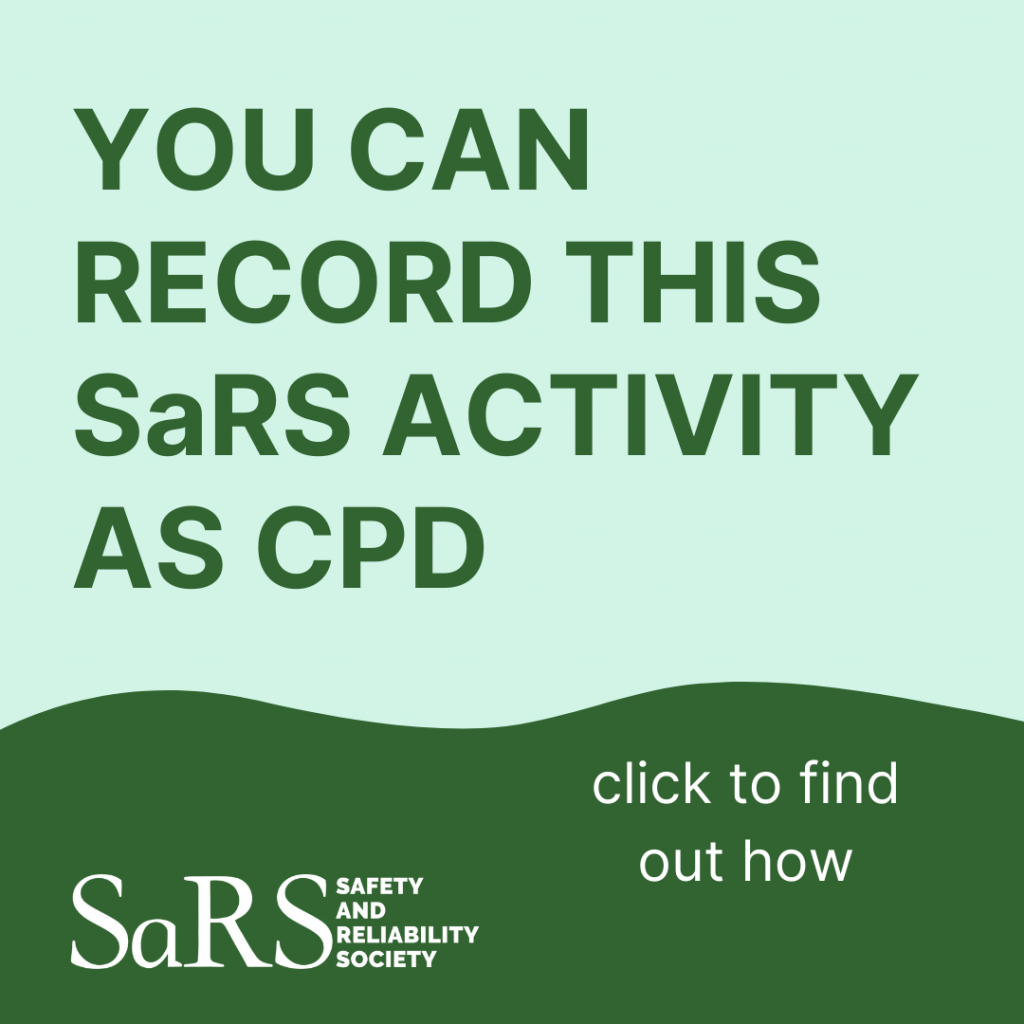 The Safety & Reliability Society (SaRS) webinar programme is brought to you by the SaRS Webinar Working Group (WWG) with the objectives of: Providing high quality cross industry learning on interesting safety and reliability (S&R) topics, Promoting the message of a safer and more reliable world, Encouraging greater participation in the development of S&R across all industries, Providing presenting, career development and CPD opportunities to individual S&R practitioners, Broadening the reach of SaRS and encouraging more S&R professionals to get involved with the Society, Helping to meet the charitable aims of the Society
As with all SaRS groups the WWG consists enthusiastic S&R professionals who volunteer their time to help promote S&R across all industries. The members of WWG are: Angela Ku – Jacobs, Simon Burwood – Engineering Safety Consultants Ltd., Jibril Okin – Process/Technical Safety Engineering Consultant, Colin Dennis (Chair) – SaRS, Louise Whiting – Barberton Ltd and Eileen Banks – Ultra CSS, Harry Moss – formerly with BP
Scroll down for details of all the upcoming webinars – all SaRS webinars are free and open to members and non-members

Our webinar programme is partly funded by ESRA (European Safety and Reliability Association)
We also have a comprehensive archive of previous webinars that SaRS members can access:
Want to know what's coming up? – Join our contacts list
If you would like to be kept informed about the upcoming webinars please register for our Webinars Contact list by clicking here
SaRS webinars are free and open to both SaRS members and non-members.
1. Early Career Professionals Presentation Event
22nd September 2021 at 18:00 UK time. To register for the event please click here.
Join us to hear from three early career Safety & Reliability professionals as they present on interesting safety and reliability projects from a variety of industries. Each 15 minute presentation will be followed by questions asked by the audience via the webinar chat system. After all three presentations and Q&A sessions, the audience will be invited to vote on which was the best presentation overall and the prize will then be awarded to the winner.
The three entries selected for presentation are:
Sophie Brown – Risk Consultant, Arup:
In Sophie's presentation, we will learn about the Hy4Heat programme, the aim of which is to establish if it is technically possible, safe and convenient to replace natural gas with hydrogen in residential and light commercial buildings. As part of this programme, a comparative safety assessment that was focussed on risk within domestic properties was undertaken. This took into consideration a variety of factors and used quantitative risk assessment as well as a range of experimental tests to verify that the risks of conveying hydrogen are no greater than the accepted risk level associated with the current use of natural gas.
The assessment was independently reviewed by the Health and Safety Executive, culminating in a letter of assistance from that organisation.
Nic Bowler – HM Specialist Inspector of Railways (HF), Office of Rail and Road (ORR):
On 7th May 2020, a freight train passed two red signals. The second was protecting the junction ahead for the passage of a high-speed passenger train. Fortunately, the design of the signalling system, timing of both trains and the passenger train driver's ability to identify the signal reversion, enabled the passenger train to stop in advance of the potential collision point.
In line with its Mandatory Investigation Process, ORR conducted an independent investigation to ascertain the causal and contributing factors of the incident and identify if there had been any breaches of the law. This involved gathering information from a wide variety of sources. In Nic's presentation, we will hear about the investigation from the interesting perspective of someone within the regulatory body for the railways.
Hamzah Hussain – Junior Safety Engineer, AFRY:
Fault Tree Analysis (FTA) is a powerful technique that can be used to model a systems behaviour by decomposing it in a hierarchical manner, starting with an end effect and working backwards to identify causes. The analysis can be stopped at any level depending on the objectives. FTA allows the modelling of common mode failures that have the potential to undermine the integrity of the system.
Although FTA usually produces a numerical evaluation of the top event, more important that this is the failure logic that leads to the top event, i.e. the combination of events that have to occur to realise the top event.
Hamzah's presentation will look at how FTA was applied in a Reliability assessment of an electrical distribution system for a high hazard facility, and will discuss the benefits of applying the technique despite imperfect data.
To support these early career professionals please click here to register for the webinar.
SaRS webinars are free and open to both SaRS members and non-members.
If you are a member of SaRS and you would like to view past webinars please register for access to the Member Area.
If you are not a member you can find out how to join here Join SaRS
If you would like to present a webinar as part of our developing programme please contact me via email at webinar@sars.org.uk