Upcoming Webinars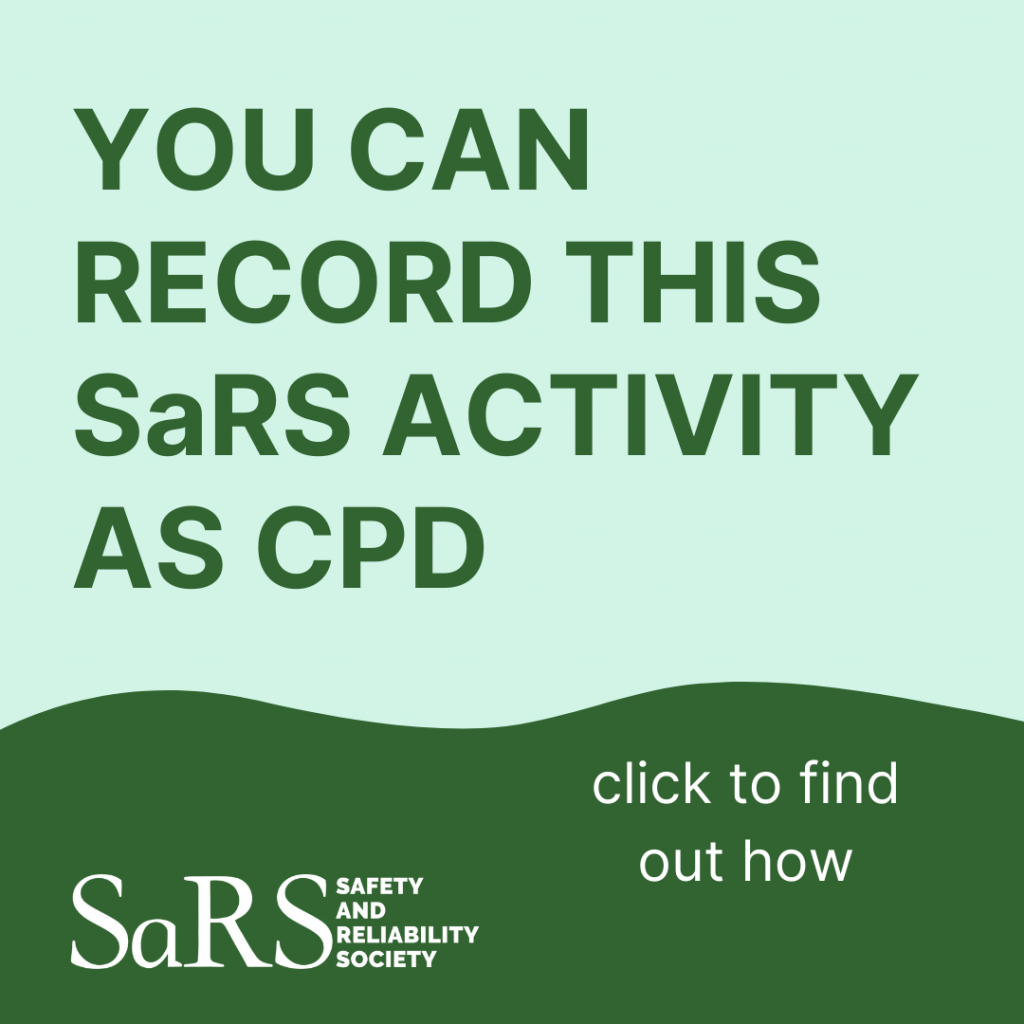 The Safety & Reliability Society (SaRS) webinar programme is brought to you by the SaRS Webinar Working Group (WWG) with the objectives of: Providing high quality cross industry learning on interesting safety and reliability (S&R) topics, Promoting the message of a safer and more reliable world, Encouraging greater participation in the development of S&R across all industries, Providing presenting, career development and CPD opportunities to individual S&R practitioners, Broadening the reach of SaRS and encouraging more S&R professionals to get involved with the Society, Helping to meet the charitable aims of the Society
As with all SaRS groups the WWG consists enthusiastic S&R professionals who volunteer their time to help promote S&R across all industries. The members of WWG are: Simon Burwood – Engineering Safety Consultants Ltd., Jibril Okin – Process/Technical Safety Engineering Consultant, Colin Dennis (Chair) – SaRS, Louise Whiting – Barberton Ltd, Harry Moss – formerly with BP, Samia Jelley-Shaikh – WSP and Wayne Leikertas – Jacobs
Scroll down for details of all the upcoming webinars – all SaRS webinars are free and open to members and non-members

Our webinar programme is partly funded by ESRA (European Safety and Reliability Association)
We also have a comprehensive archive of previous webinars that SaRS members can access:
Want to know what's coming up? – Join our contacts list
If you would like to be kept informed about the upcoming webinars please register for our Webinars Contact list by clicking here
To register for the webinar please click here
1. London Branch – The safety of low carbon hydrogen and its applications
Thursday 26th May 2022 at 18:00 UK time. To register for the webinar please click here.
The UK government aims at achieving net zero target by 2050. Hydrogen is potentially one of the key low carbon solutions for the UK's transition to net zero. However, hydrogen can only be considered as a decarbonisation option if it is readily available with proper assurances about safety and reliability. In our next branch event, our speakers will talk about the hydrogen-specific safety challenges and the gaps they see from the traditional process safety sector. They will also share their experience in understanding the potential hydrogen applications in supply chain (storage vessels) and aviation in term of safety considerations.
The webinar will be presented by:
Dr. Gianluca Carigi (Clean Energy Head Consultant, MES)
Hassan Al Halwachi (Senior Process Engineer, Arup)
Ed Macfarlane (Principal Consultant, Abbott Risk Consulting)
Meetings and webinars are open to all, you do not need to be a member of SaRS to attend.
Further webinar titles to be added soon
If you would like to present a webinar as part of our developing programme please contact me via email at webinar@sars.org.uk
If you are a member of SaRS and you would like to view past webinars please register for access to the Member Area.
If you are not a member you can find out how to join here Join SaRS