Upcoming Webinars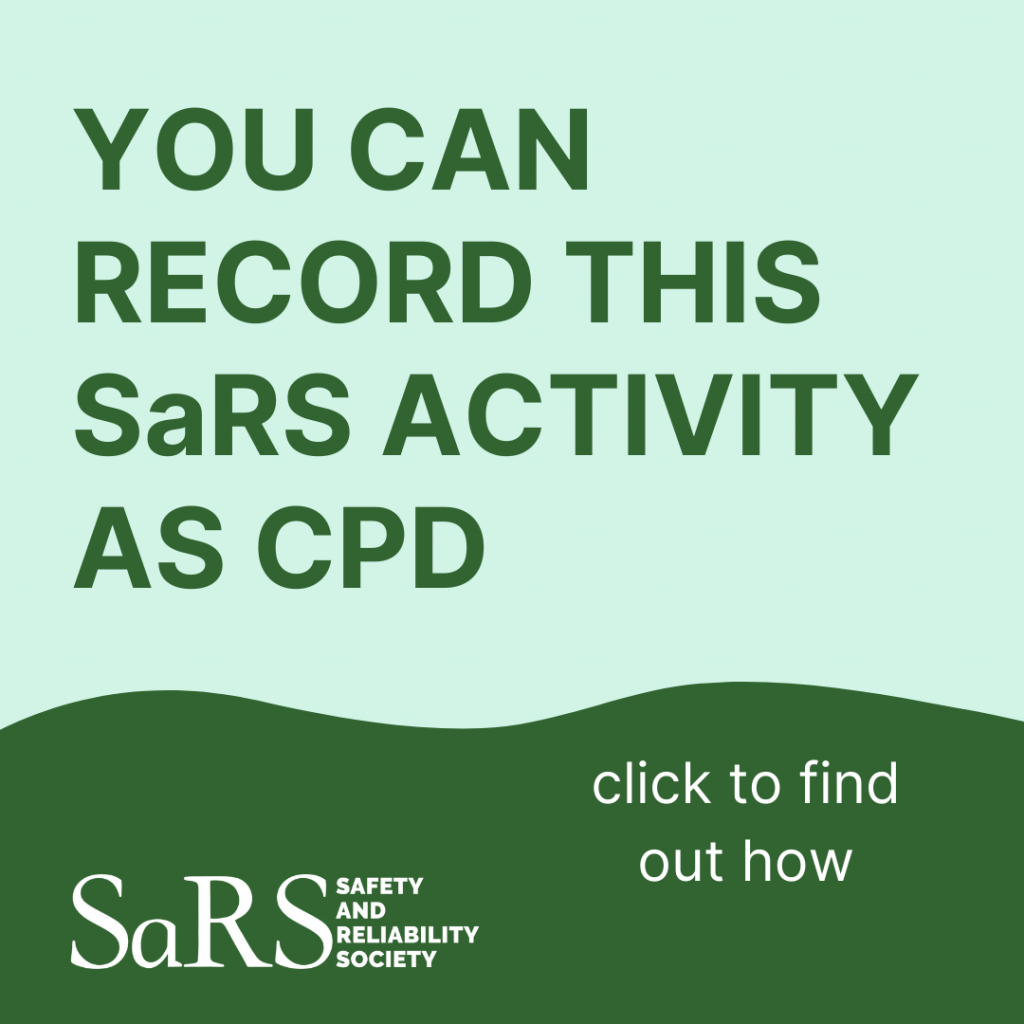 The Safety & Reliability Society (SaRS) webinar programme is brought to you by the SaRS Webinar Working Group (WWG) with the objectives of: Providing high quality cross industry learning on interesting safety and reliability (S&R) topics, Promoting the message of a safer and more reliable world, Encouraging greater participation in the development of S&R across all industries, Providing presenting, career development and CPD opportunities to individual S&R practitioners, Broadening the reach of SaRS and encouraging more S&R professionals to get involved with the Society, Helping to meet the charitable aims of the Society
As with all SaRS groups the WWG consists enthusiastic S&R professionals who volunteer their time to help promote S&R across all industries. The members of WWG are: Simon Burwood – Engineering Safety Consultants Ltd., Colin Dennis (Chair) – SaRS, Louise Whiting – Barberton Ltd, Samia Jelley-Shaikh – WSP and Wayne Leikertas – Jacobs
Scroll down for details of all the upcoming webinars – all SaRS webinars are free and open to members and non-members

Our webinar programme is partly funded by ESRA (European Safety and Reliability Association)
1. Blending Artificial Intelligence developments into Safety Management Systems: A bridge to Adversarial AI?
Tuesday 5th December 2023 at 12:30 UK time. To register for the webinar please click here
The increased digitalisation of safety-critical and other systems is leading to scrutiny of how those systems can be made more cyber resilient. Due to the ever-changing nature of both the systems themselves and their use cases, and the cyber threats and tools available to mitigate them, integrating this into existing Safety Management Systems is a recognised challenge.
But there is more change coming. Implementation of Artificial Intelligence, in particular the risks of Adversarial AI, on both the defence and attack side is taking shape with research prototypes in the field of transportation. These include evasion attacks to avoid detection and gamification of the input data sets to reduce the effectiveness of the whole system.
This webinar presents the latest research in Adversarial AI, as applied to drone recognition and evasion, human activity recognition and analysis, and mobility as service providers. Both the NIST Cybersecurity Framework and the NCSC Cyber Assessment Framework will be used to as a lens to view the impact of potential system-wide adaptation on the Safety Management System implementation.
The webinar will be presented by:
Professor Weisi Guo MEng, MA, PhD. Weisi obtained his MEng, MA, and PhD degrees from the University of Cambridge. From 2012, he built an award-winning team at the University of Warwick. Since 2019, he joined Cranfield University to lead the Human Machine Intelligence Research Group. He has been PI on over £7.2m of research funding and was a Turing Fellow at the Alan Turing Institute from 2017. He has published over 140 journal papers, with key papers in: Nature, Nature Comm., Nature Comp. Science, and Nature Machine Intelligence, and
Dr Emma Taylor CISSP CEng FIMechE FSaRS. Emma has 30 years engineering experience across Critical National Infrastructures: aerospace, energy and transport. A Royal Academy of Engineering Visiting Professor in Digital Safety and Security at Cranfield University, she is implementing innovative teaching methods to. She is also a member of the Department for Transport's Science Advisory Council and Head of Digital Safety at a VC-funded cyber security SME. Previously the Chair of a Professional Engineering Institute, the Safety and Reliability Society, she is also a peer-to-peer mentor and advocate for professional registration and personally committed to increasing deaf awareness in the engineering community and beyond.
2. Lessons from a HAZOP Facilitator
Wednesday 15th December 2023 at 12:30 UK time. To register for the webinar please click here.
This webinar will draw from well over 400 days of HAZOP and LOPA facilitation that our speaker Louise Whiting has experienced. Louise will share the most common issues she has identified, including; Most common design flaws, Most common recommendations, Most common preparation errors, Most common delivery errors, Most common recording errors and the Most common close out errors.
This topic will be of keen interest to process safety professionals as HAZOP is one of the main hazard identification methodologies of the industry and therefore the webinar will be relevant to Safety managers, anyone organising a HAZOP, HAZOP facilitators, HAZOP attendees, process engineers, project managers and project engineers.
Our speaker for the webinar will be Louise Whiting CEng IChemE FSaRS. Louise has over 11 years of experience in major oil and gas operators (BP and Shell). She is a Chartered member of the IChemE and holds the Professional Process Safety Engineer status from the institute. She has extensive experience in operations as well as experience in wells and projects. Majority of this experience is in upstream oil and gas onshore, offshore, North Sea and Iraq. She transitioned to technical or process safety just after achieving chartered status and has experience applying her skills in a range of environments. Louise is a Fellow of the Safety and Reliability Society, Chair 2022/23, Membership Chair. Louise holds a variety of qualifications including chartership, professional process safety engineer and certified functional safety engineer. Louise was managing director of Barberton Limited for 3 years then moving to found Deedah PSM Ltd in 2023
We also have a comprehensive archive of previous webinars that SaRS members can access:
Want to know what's coming up? – Join our contacts list
If you would like to be kept informed about the upcoming webinars please register for our Webinars Contact list by clicking here
Further webinar titles to be added soon
If you would like to present a webinar as part of our developing programme please contact me via email at webinar@sars.org.uk
If you are a member of SaRS and you would like to view past webinars please register for access to the Member Area.
If you are not a member you can find out how to join here Join SaRS