Full List of SaRS Webinars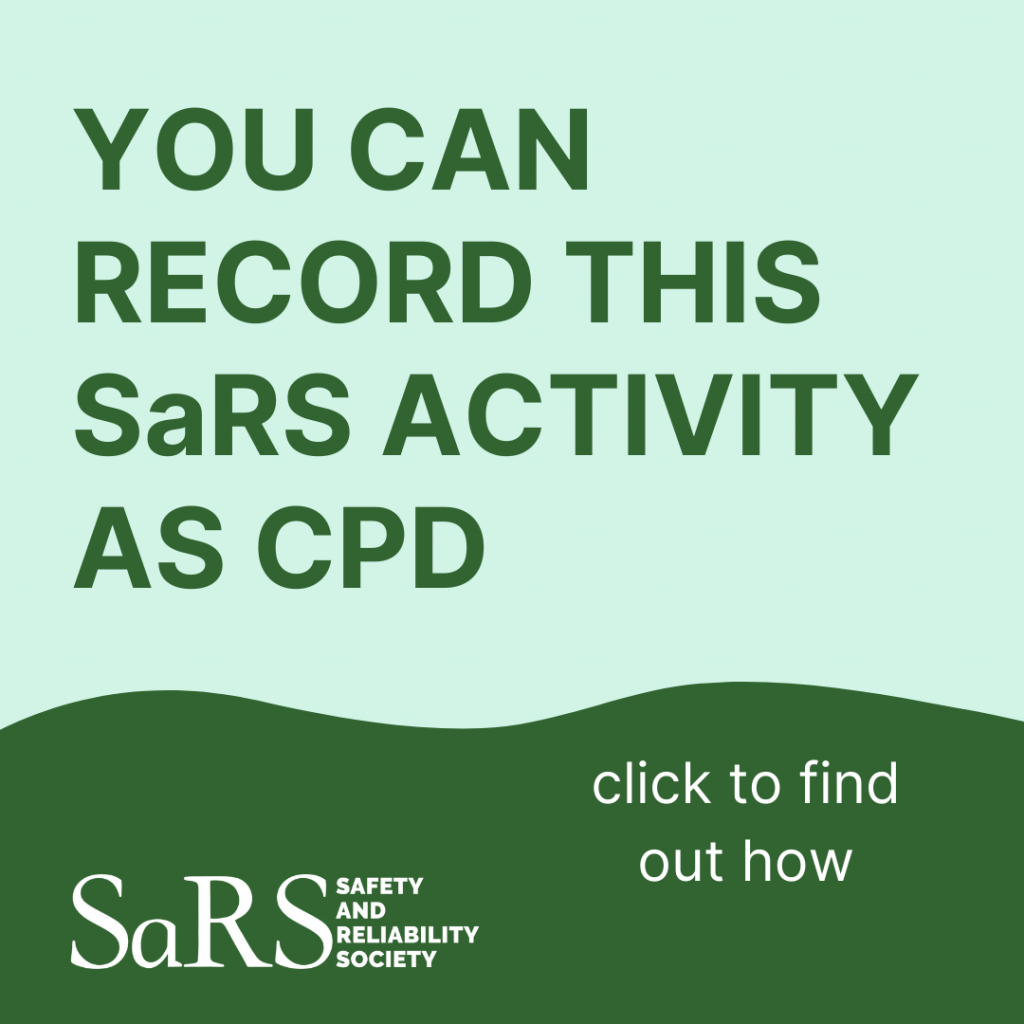 The full list of the webinars currently available to SaRS members in the webinar archive is presented below, with the most recent webinars shown first.
The Technical Learning Series are shown with bold headings.
You will need to log in with your SaRS member username and password to be able to access the recordings via the links in the webinar titles. Click here to login to the Members area.
2022
76. Asia-Pacific Branch – Digital Maintenance for Rolling Stock:
75. Midlands Branch – Current challenges and future solutions for systems safety analysis – Dr Silvia Tolo
74. Asia-Pacific Branch – Dependent Failures – Dr. Phil Cook
73. London Branch – Safety of offshore wind power generation – Kate Harvey, Rob Alexander and David White
72. Asia-Pacific Branch – Balancing Risk and Cost – do the Old Rules of SFAIRP Still Apply in 2022? – Steve Bickley, Abbott Risk Consulting
71. Solent Branch – Designing a mandated, proactive, reliability process customised to the railway infrastructure in Britain – Kevin Rayment, Network Rail
2021
70. Midlands Branch – Incident to Improvement – Peter Sheppard
69. London Branch – A 'Chadwick' to solve today's building miasma (are your buildings COVID safe?) – Paul Waldeck and James Wright
68. London Branch – Identifying, Recording and Investigating a Digital Incident – Brian Tomlinson, Simon French and Emma Taylor
67. The 3 layers of defence – The case for systematic barrier assurance – Harry Moss
66. London Branch – Early Career Professionals Presentation Event – Sophie Brown, Nic Bowler and Hamzah Hussain
65. Asia-Pacific Branch – Rail Tunnel Safety – Dr Fathi Tarada
64. Solent Branch – Asset Management – John Skelton
63. Asia-Pacific Branch – Safety leadership through the application of system assurance – Nelson Ng
62. Carpe Data: the impact of digitalisation on risk assessment and insurance – co-hosted with the IRM – Clive Thompson and Mark Boult
61. Living Probabilistic Safety Assessment and Risk Visualisation – Hugh Stephenson and Marinos Panayiotou
60. Midlands Branch – The Nimrod Independent Review, 12 years on. What did we learn? – John Campbell
59. London Branch – Value of Safety Culture: Panel Discussion – Professor Patrick Hudson, Diane Chadwick-Jones and Hesam Mehrabi Mahani
56 to 58. Lessons learned from 10 years of using the CSMRA:
50 to 55. SERIES – BASICS OF FUNCTIONAL SAFETY – ENGINEERING SAFETY CONSULTANTS LTD.
49. London Branch – Road Tunnel Safety – Dr Fathi Tarada
48. Solent Branch – Improving safety at UK station platforms for disabled people – an accident investigation by the RAIB – Alex Mason
47. Fukushima: A Decade on – Dr Mike Weightman CB, Dr Marie-Laure Hicks and Mark Salisbury
46. London Branch – Innocent Bystanders? Taking human activities into account in QRA – David Stephens
45. Asia-Pacific Branch Webinar – Fundamentals of Safety Integrity Level (SIL) Verification – Jaspreet Chana
44. London Branch – Forecasting Reliability Through Life – Paula Pritchard and Dr Matthew Stapleton
43. Solent Branch – Testability: Requirements, Assurance, Benefits and Considerations for Autonomous Platforms – Alan Bennett
40 to 42. SERIES – FRACAS – A PRACTICAL GUIDE TO FAILURE MANAGEMENT – DR JOANNE LEWIS
2020
39. Digital safety and cyber security – a time for questions – Dr Emma Taylor, Betty Helienek, Dr Fan Ye and Hayden Tomlins
38. Midlands Branch – Explosions: A historical perspective of research at DNV-GL Spadeadam and a look to the future – Mike Johnson
37. Solent Branch – Sustainability in Space? – Could Safety Cases help? – Dr Emma Taylor
36. London Branch – Smart Motorways – Max Brown, Peter Whitfield and James Catmur
35. Midlands Branch Flammable Mists Hazards involving High Flashpoint Liquids – Dr Simon Gant
34. London Branch Safety-II and the Functional Resonance Analysis Method (FRAM) – Dr Laura Pickup, Dr Mark Sujan and Dr Riccardo Patriarca
33. London Branch Safety, Security and Sustainability in Space – Mythbusters and Managing Risks – Ralph Dinz Dinsley, Christopher Newman and Emma Taylor
32. Putting the fun into safety – managing the many dimensions of safety in a theme park complex environment – Jonathan Ellis
31. Solent Branch Insights into the new MOD guidance on In-service Reliability and Maintainability (R&M) – Nat King and Alan Bennett
30. London Branch Early Career Professionals Presentation Event – Gilad Amzaleg, Esme Fowler and Raunak Kabra
27 to 29. SERIES – LEARNING CYBER SECURITY AND ITS APPLICATION TO SAFETY CRITICAL SYSTEMS – ALZBETA HELIENEK
26. Human Factors and Asset Management – Nicola Fairburn
25. Safety Leadership – Robert de Boer
24. Fundamentals of Safety Integrity Level (SIL) Verification – Jaspreet Chana
23. Incident Investigation – Key Insights for High Hazard Industries – Roger Stokes and Robert Magraw
22. Delivering Safety and Reliability through Industry Collaboration – Fotis Zapantis and Giulia Lorenzini – SaRS/YRP
21. London Branch Bowties and their use in different industries – Mark Boult and Hamid Kareshki
20. Risk Culture In Commercial Air Transport – Cengiz Turkoglu
14 to 19. SERIES – BASICS OF RISK MANAGEMENT – LOUISE WHITING
13. London Branch 30 Years of SIL – Ron Bell, James Catmur and Jas Singh
12. 'Hidden' Hazards of Materials – Alec Bounds
2019
11. Taking Safe Decisions—A Rail Perspective – Mike Castles
10. Automotive Intelligent Speed Adaptation – Will It Be Friend Or Foe? – Prof Oliver Carston and Simon Wickenden
9. Cybersecurity – What's the Threat? – Nigel Stanley, Richard Bye and Scott Meadows
8. Functional Safety: Proof Testing – What's It All About? – David Green
7. Risk Acceptance in Critical Sectors: A Wicked Problem – George Bearfield
6. How Safe Is Safe Enough? – Ron Bell OBE
5. Are Risk Matrices Hazardous? David Gleave, Keith Miller and Steven Hughes
4. Understanding the Safety Of Healthcare – Dr Mark Sujan, Dr Dominic Furniss and Dr Chris Vincent
3. Is There Really Safety in Numbers? – Keith Miller, Colin Dennis, James Catmur
2. Producing A Legally Sound Demonstration of ALARP – Keith Miller
1. Appropriate Conservatism in Safety Cases – Alec Bounds
For the full webinar archive please click here