Body of Knowledge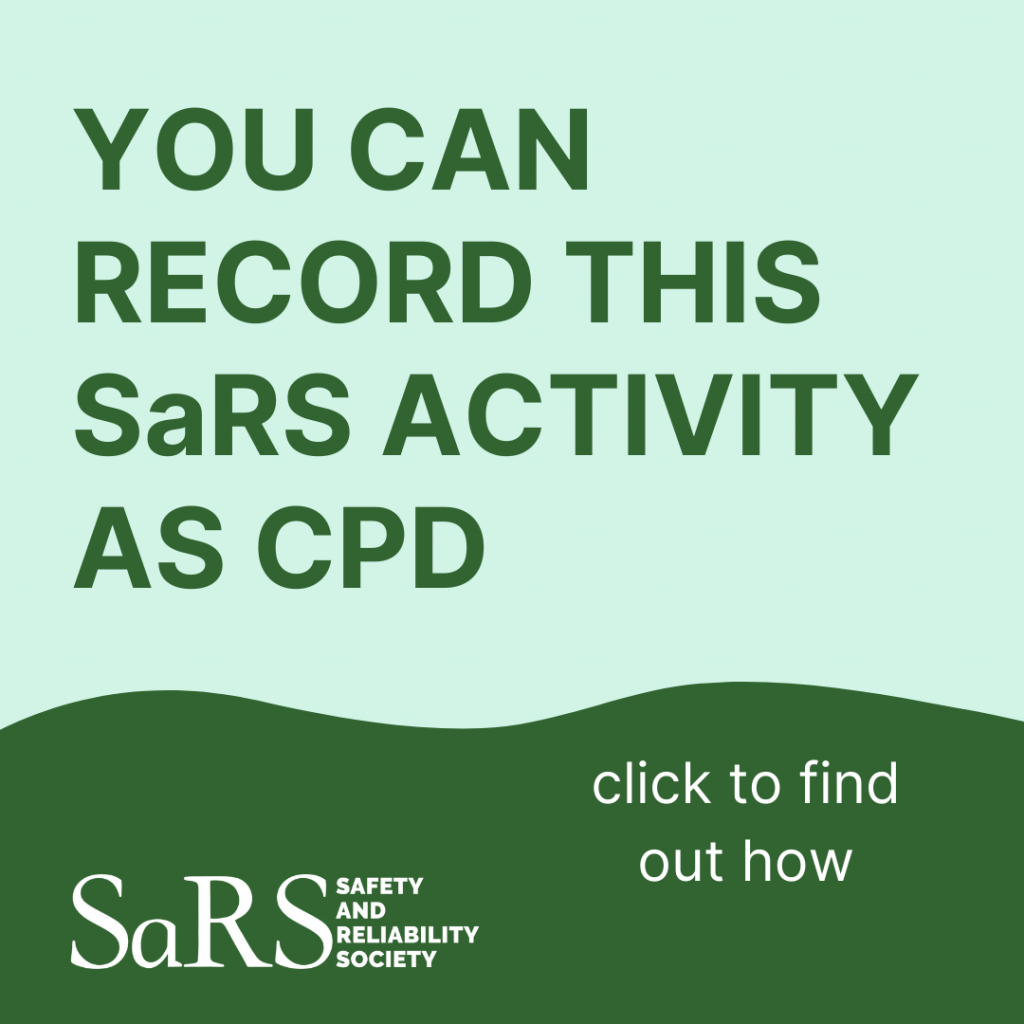 The Safety and Reliability Society aims to provide an evolving Body of Knowledge for professionals. This page provides a sample of our wider industry-organised Body of Knowledge in our Members Area. Please inquire about membership to access the Members Area.
Please follow the links below:
List of other sites containing Safety and Reliability reference material – this links to a mind map of various relevant resources.
---
General:
Dependability
Concept of Dependability
Standards
The society is active in the development of standards – see Standards for Safety and Reliability page.
ALARP
ALARP – explanation (HSE Website) See Annex 3
Further guidance is given and in a suite of three guidance documents:
Principles and guidelines to assist HSE in its judgements that duty-holders have reduced risk as low as reasonably practicable
Assessing compliance with the law in individual cases and the use of good practice as reasonably practicable
Policy and Guidance on reducing risks as low as reasonably practicable in Design
Risk
Safety Risk Aggregation: The Bigger Picture, S Rhys David – Partner Safety Assurance Services Ltd., Farnham, Surrey
HSE risk education network – As part of SaRS' charitable aims is to educate, members are encouraged to explore the risk education network to find and share useful teaching resources, sources of information and also post an offer to give guest lectures specifying the topics and locations they are willing to travel to. To join the network, please click here.
---
Industry Specific:
Defence
Applied R&M Manual for Defence Systems (GR-77)
List of 270 Standards for Reliability in excel format
Notes from 'Safety in Engineering' Royal Academy Discussion Meeting 13th July 2011
Rail
Site dedicated to railway risk and in particular the risk resources provided by RSSB.
'Taking safe decisions'– how Britain's railways take decisions that affect safety
Describes the principles applied to UK railway industry decisions which impact upon safety. Contains framework and worked examples.
Link: www.rssb.co.uk/safety-and-health/guidance-and-good-practice/taking-safe-decisions
Office of Rail Regulation Risk Management Guidance
Provides high-level guidance and general principles on the application of so far as is reasonably practicable (SFAIRP) and cost benefit analysis (CBA) to railway safety.
Link: www.rail-reg.gov.uk/server/show/nav.1118
Aviation
Operators Guide to Human Factors in Aviation
The Flight Safety Foundation Operators Guide to Human Factors in Aviation (OGHFA) is now hosted on SKYbrary and contains over 100 articles and visual aids…
Read the Guide: http://www.skybrary.aero/index.php/Portal:OGHFA
For more information visit the aviation safety knowledge base SKYbrary: http://www.skybrary.aero or visit https://hfskyway.faa.gov/hfskyway/index.aspx?AspxAutoDetectCookieSupport=1
Oil and Gas
Prevention of fire and explosion, and emergency response on offshore installations ACoPs
This Code of Practice and guidance is a publication which sets out what you have to do to comply with Offshore Installations (Prevention of Fire and Explosion, and Emergency Response) Regulations 1995 and is has been approved and issued by the Health and Safety Executive.
Read the guidance here.