Governance & Committees
SaRS Committees
The Safety and Reliability Society (SaRS) is governed by and operates through a committee structure. SaRS is grateful to the volunteers who serve on committees. Did you know that committee work contributes to continuing professional development (CPD)? Working with colleagues on committees and workgroups provides networking opportunities in addition to cross-industry discussion about technical issues. If you are interested in serving on a SaRS committee please email info@sars.org.uk.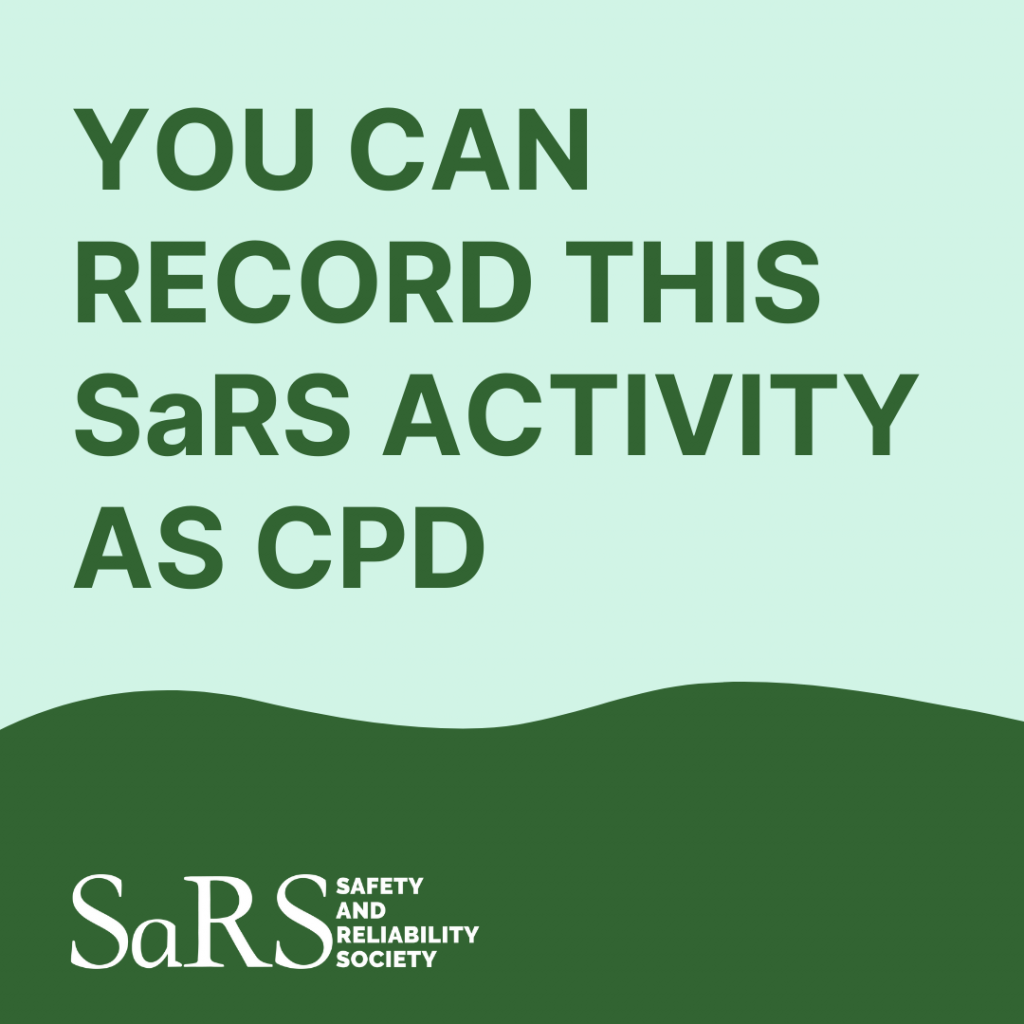 SaRS Council
SaRS governing body is the Council, supported by a number of committees each responsible for various aspects of business.
Members
Richard Denning (President)
Chris Harrison (Chair)
Peter Stanton (Finance Director)
Louise Whiting (Membership Chair)
Colin Dennis (Webinar Committee Chair)
David Holland
Harry Hopkins (Engineering Membership Committee Representative)
Joanne Lewis
Sam Jelley-Shaikh
Peter Sheppard (Branch Representative)
Secretariat to Council
Jacqueline Ward (CEO and Secretariat to Council)
Trustee and Director Board
The Trustee and Director Board meets 4 times per year. The main work of the board is the detailed monitoring and scrutiny of the finances of the Society and SaRS Ltd, in order that Council can rely on summary information rather than poring over the detail of every entry on the balance sheets. The board also oversees the general running of the Society, and in particular the Office.
Members
Richard Denning (President)
Peter Stanton (Finance Director)
Chris Harrison (Chair)
Louise Whiting (Past Chair)
Jacqueline Ward (Chief Executive) (Secretariat)
External Affairs Committee
SaRS Affiliate Organisation and Academic Affiliates
Members
Peter Sheppard
Harry Hopkins
Colin Dennis
Membership Committee
Reviews membership applications and ensures that potential members meet the appropriate standard.
Members
Louise Whiting (Chair)
Richard Denning
Nick Barnett
Trevor Cockram
Colin Dennis
Paul Short
Peter Stanton
Obinna Ugboaja
Engineering Membership Committee
Reviews and assesses IEng and CEng applications for Engineering Council Registration
Members
Simon Rutherford (Chair)
Paula Pritchard (Chair CPD Sampling and Assessment)
Kasi Usani (Chair Academic Assessment Committee)
Nurudeen Momodu (Chair Professional Registration Advice)
Harry Hopkins (SaRS Council Representative)
Nick Barnett (SaRS External Liaison Officer)
Colin Newsome (Engineering Council Liaison Officer)
Jacqueline Ward (Secretary)
Webinar Committee
Providing high quality cross industry learning on interesting safety and reliability (S&R) topics,
Promoting the message of a safer and more reliable world,
Encouraging greater participation in the development of S&R across all industries,
Providing presenting, career development and CPD opportunities to individual S&R practitioners,
Broadening the reach of SaRS and encouraging more S&R professionals to get involved with the Society,
Helping to meet the charitable aims of the Society
Members
Colin Dennis (Chair) – SaRS,
Simon Burwood – Engineering Safety Consultants Ltd.,
Jibril Okin – Process/Technical Safety Engineering Consultant
Louise Whiting
Eileen Banks – Ultra CSS
Phil Lang (United Utilities)
Anthony Pickett (Catus Consulting)
External Technical Activity (ETA) Committee, reporting direct to SARS Council, has been established to provide greater focus on working with other bodies. The ETA Committee will coordinate
and encourage SaRS involvement in technical activity such as standard development and engagement
with other bodies working in safety and reliability.
Members
Jo Hursell (Chair)
Richard Denning (Deputy)
Simon Burwood
Isuruwani Herath
Gianluca Carigi
Steve Beech
Louise Whiting