Delivering Safety and Reliability through Industry Collaboration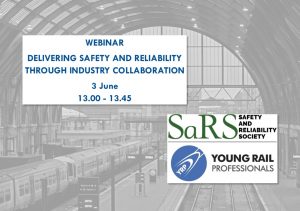 Joint SaRS and YRP Webinar – 3 June – 13.00 to 13.45
The railway is made up of many organisations delivering different parts of the railway. But, all those parts make up one system. Collaboration is needed to make it work and to ensure it's safe.
The Rail Safety and Standards Board (RSSB) was set up as an independent body to address the need for a system-wide perspective on standards, research, and a range of cross-industry functions. Today, working with its members, RSSB drives improvements in health and wellbeing, and in delivering a safer, more efficient and sustainable rail system.
With highlights for safety and reliability, join our speakers to hear about RSSB's work stimulating cross-industry initiatives and projects, maximising data, and promoting innovation.
Speakers:
Fotis Zapantis, Safety Intelligence Analyst
Giulia Lorenzini, Senior Partnerships Manager
Book your place at:
https://sars.clickmeeting.com/sars-yrp-delivering-safety-and-reliability-through-industry-collaboration/register
See the event poster here:
Delivering Safety and Reliability through Industry Collaboration
Starts
Wednesday, 3rd June 2020 at 1:00pm
Ends
Wednesday, 3rd June 2020 at 1:45pm
Venue
Webinar