*PLEASE NOTE THIS EVENT IS CANCELLED* Flammable Mists Hazards involving High Flashpoint Liquids
In this SaRS Midlands Branch event, Dr Simon Gant from the Health and Safety Executive will provide an overview of the work led by HSE on flammable mists over the last decade.
The talk will cover the  2009 review carried out by the Health and Safety Executive (HSE) of flammable mist incidents, which was followed by a 2011 to 2015 Join Industry Project to study the problem further. However, some important questions remained unanswered and in 2018 HSE launched a follow-on JIP (currently ongoing) to further address flammable mist issues.  Simon's talk will provide details of the work done to date, and the challenges still remaining.
Attendance is free and open to both SaRS members and Non-Members.
Refreshments will be available from 6.00 pm, with the talk starting at 6.30 pm.
Directions:  Holywell Park is less than two miles away from junction 23 of the M1 motorway (on the A512), signposted from the first roundabout. At the gatehouse say you are going to a meeting at DNV GL. Park in the DNV-GL staff car park.
Further information:
Email: sarsmidlands@sars.org.uk
Clive Musgrave 07740 047248; Harry Hopkins 07768 681497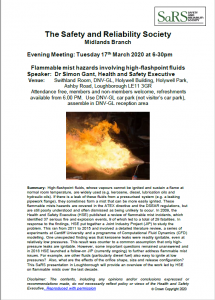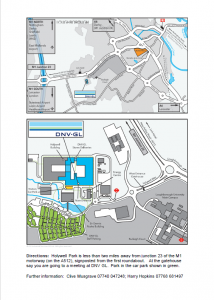 Starts
Tuesday, 17th March 2020 at 6:00pm
Ends
Tuesday, 17th March 2020 at 8:00pm
Venue
Swithland Room, DNV-GL, Holywell Building, Holywell Park, Ashby Road, Loughborough LE11 3GR