Webinar: London Branch Early Career Professionals Presentation Event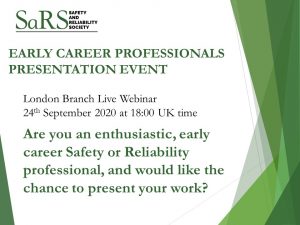 We are delighted to announce a live webinar event for early careers S&R professionals to have the opportunity to present an interesting project that they have been working on. Four 15 minute presentations will be made at the event and there will be a prize for the best presentation.
If you or someone in your team/organization has less than 10 years S&R experience in industry and would like the opportunity to present at this event, please send a short abstract (~250 words) on the proposed topic and a copy of your CV to Colin Dennis at londonbranch@sars.org.uk by Friday 21st August 2020.
This opportunity is available to both SaRS members and non-members. The London Branch committee will select the four best topics to be presented.
To register for this event please  click here
Starts
Thursday, 24th September 2020 at 6:00pm
Ends
Thursday, 24th September 2020 at 7:45pm
Venue
Webinar only event