Webinar: London Branch Early Career Professionals Presentation Event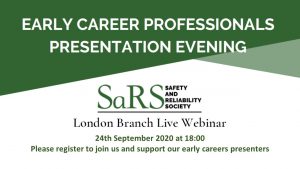 Join us to hear from three early career Safety & Reliability professionals as they present on interesting safety and reliability projects from the rail and power generation sectors. Each 15 minute presentation will be followed by a Q&A and prize for the best presentation which is kindly sponsored by Virkonnen Ltd.
Our Speakers and their presentations:
Gilad Amzaleg is a graduate analyst at RSSB. Gilad will present his work combining epidemiological and crowd dynamic modelling to maximise safe rail passenger capacity following the Covid-19 outbreak.
Raunak Kabra is a principal engineer at Risktec Solutions and has 10 years experience in the oil & gas industry. Raunak will present his work on performing reliability studies for solar power plants and how to factor in current limitations.
Esme Fowler is a graduate with the two-year Bombardier Transportation scheme working in the product safety engineering department. Esme will present her work on the SWR Project safety case, specifically, the completion of the project functional FMEA.
How to register
To register for this event please click here
This event is open to both SaRS members and non-members.
To see the event poster please click here
Starts
Thursday, 24th September 2020 at 6:00pm
Ends
Thursday, 24th September 2020 at 7:45pm
Venue
Webinar only event