Nextec Engineering Limited join SaRS as an Affiliate Organisation
by Jacqueline Ward on Friday, 14th October 2022 at 8:55am
The Society would like to welcome Nextec Engineering Limited to Affiliate Organisational Membership.
Ben Buchanan from Nextec told us:
'Nextec Engineering Limited is a specialist consultancy with extensive experience in Systems Engineering, Safety Engineering and Assurance Activities. Founded in April 2020 by four Directors with diverse backgrounds in Rail, Functional Safety, Oil & Gas and Clean Energy. Nextec consultants offer Engineering Safety Management (ESM), RAM Analysis, Requirements Management, Installation and Test Witnessing, Standards Compliance, Verification & Validation, and related Scientific and Technical Consulting activities for high hazard industries.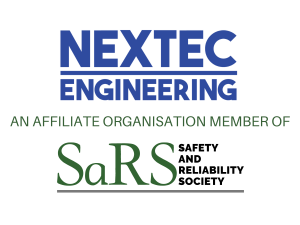 Quality, Integrity and Responsibility are the Nextec values

Nextec Engineering Limited has a diverse team of highly driven and competent individuals. Nextec have a Quality Management System (QMS) that has been awarded ISO 9001 Certification and Nextec Engineering meets all UK policy and Insurance requirements.

Nextec has worked on a number of high profile Transportation projects for companies such as Network Rail and Transport for London. Some example projects include Crossrail, DLR and the London Underground Four Lines Modernisation Project.

Nextec's safety assessment capability also includes nuclear safety and engineering support with both Pressurised Water Reactors (PWRs) and Advanced Gas Cooled Reactors (AGRs) across the UK nuclear power plant fleet.

Nextec Engineering has broad experience in the Engineering Safety Management, from planning, through day to day activities including Hazard Identification, Hazard Record Management, Safety Requirements and Safety Justification production in accordance with Common Safety Methods (CSM).

Nextec Engineering Consultants have experience in undertaking RAM activities, with experience in the production of Reliability Block Diagrams and the calculation of system and subsystem Reliability, Availability and Maintainability.

The Nextec team has worked with a number of organisations in the low carbon and clean energy sectors. We aim to increase our work in these areas to help reduce harmful greenhouse gas emissions and support the fight against climate change. Our team of experienced consultants can provide high quality technical support, tailored to meet your specific needs.'

SaRS Trustees and Council thanked Nextec for their support.


Warning: Use of undefined constant php - assumed 'php' (this will throw an Error in a future version of PHP) in /home/sites/sars.org.uk/public_html/sars/wp-content/themes/sars-wp/template-parts/content-single.php on line 70