Relyence UK Limited join SaRS as a Prime Affiliate Organisation
by Jacqueline Ward on Tuesday, 15th March 2022 at 2:48pm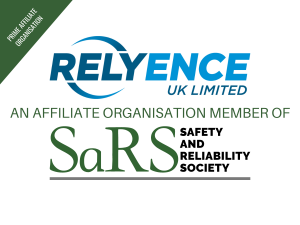 The Safety and Reliability Society is pleased to announce that Relyence UK Limited has joined as a Prime Affiliate Organisation. Prime Affiliate Organisation Membership makes a commitment to long-term support of SaRS and the industry and we are pleased to welcome Relyence UK LImited and to work with them on showcasing professionalism.
Simon Brailsford, Professional Services Manager at Relyence UK, said: 'Our goal as an organisation is to simplify an industry surrounded by sometimes complex methodologies through good design – creating intuitive, integrated, user-friendly software tools to help you save time and eliminate oversights and errors. With over 30 years of experience delivering best-in-class reliability and quality software tools and services, you can rely on.'
Relyence® reliability analysis software products, a powerful and flexible reliability and quality engineering software toolset that takes advantage of today's technology innovations. Relyence provides key insights into product performance, enabling you to achieve and exceed your continuous improvement goals and meet your compliance requirements.
The complete Relyence tool set includes the following modules, configured to suit you:
Failure Mode and Effects Analysis (FMEA)
Failure Reporting, Analysis, and Corrective Action System (FRACAS)
Fault Tree Analysis
Reliability Prediction
Reliability Block Diagram (RBD)
Maintainability Prediction
Weibull Analysis
Accelerated Life Testing (ALT)
The Relyence Solution
Providing seamless integration between FMEA (including Boundary Diagrams, P-Diagrams, Process Flow Diagrams, Control Plans, and DVP&R), FRACAS, Fault Tree, Reliability Prediction, RBD, Maintainability Prediction, Weibull, and ALT analyses, the Relyence tool suite empowers you to effectively manage your products throughout their lifecycle.
You can use each module standalone, or combine the tools you need in our Relyence Studio integrated platform.
Relyence® offers a complete solution for all your reliability and quality software needs. Along with our software tools, we offer top-notch technical support, implementation services, and training.


Warning: Use of undefined constant php - assumed 'php' (this will throw an Error in a future version of PHP) in /home/sites/sars.org.uk/public_html/sars/wp-content/themes/sars-wp/template-parts/content-single.php on line 70